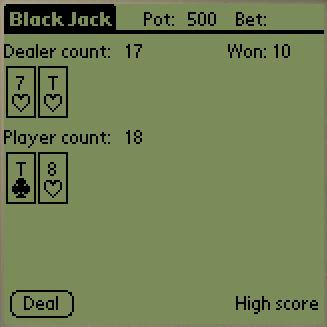 Palm Black Jack
Home
Palm Black Jack (PBJ) is a fairly full featured Black Jack simulator for the Palm Pilot. The note worthy features of PBJ are:
Supports all standard Black Jack options including splitting pairs, doubling down, insurance bets and surrender.
Built in knowledge of basic Black Jack strategy. Provides hints on correct play and keeps track of how well the player follows the basic strategy.
Built in default rules that match the different standard rules found in most casinos in 4 major areas - Downtown Las Vegas, the Las Vegas Strip, Reno and Atlantic City.
Support for 4 different betting strategies where the program automatically changes your bets based upon the outcome of each hand.
Simple user interface designed for quick response and minimal input from the user.
Licensed under the GNU General Public License so the source is freely available. If you don't like a feature of the program feel free to change it.
The Change Log gives details on then changes that have been introduced in the various releases of the program.
Check out the online user manual to see more screen shots and find out more detail on exactly how the program operates and what features it provides.

Downloads
The program itself. Just sync it to your Palm and enjoy. It's been tested on Pose, the Palm simulator, and my Palm VIIx. If you find problems on other units let me know and I'll see what I can do about fixing them. Without access to other hardware I don't know what I can acomplish but, who knows?

This is a gzipped tarball. The sources were compiled with the Prc tools and the PilRC recource compiler, both of which are available for free download from SourceForge. There is no configuration necessary for this program, just unpack the tarball, issue the command make and, if you have all the necessary tools, you should magically create the PBJ binary, pbj.prc

---


Maintained by Don Dugger <n0ano@n0ano.com>
--
"Censeo Toto nos in Kansa esse decisse." - D. Gale