Elizabeth Ann Fackler, 86, Victoria, passed away Monday, April 27, 2015 at her daughter's home in Victoria.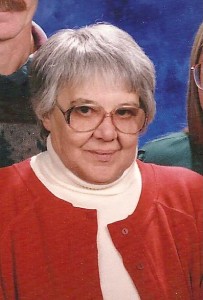 She was born December 6, 1928 in Buffalo, New York the daughter of James L. and Fairrie Gladis (Nichols) Palmer. She was united in marriage on September 29, 1963 to Lynn Fackler.
She enjoyed reading, quilting, cooking and was an avid seamstress. She taught several people how to sew, quilt, and cook as a volunteer community teacher of adult education at Boise Community Education Dept. She was a member of the Dutch Oven Society and was very proficient in Dutch oven cooking.
Survivors include a son Donald Dugger and wife Barbara of Boulder, CO, two daughters, Linda Kenne and husband John of Victoria, and Carol Fackler of Olympia, WA, five grandchildren, Paul Kenne, Stephanie Grippin and husband Morgan, Jacquelyn Norris and husband Willard, Jennifer Kivett and husband Joel, and Meaghan Dugger, six great grandchildren, Miles Grippin, Kendall Grippin, Eleanor "Nora" Kivett, Harrison Norris, Mackenzie Norris, and Mahala Norris. She is also survived by two brothers, Ernest Palmer of Chico, CA and Norman Palmer of Sacramento, CA.
She is preceded in death by her parents and her husband.
Graveside Services will be held at 1:00 pm on Friday, May 8, 2015 at Dry Creek Cemetery, Boise, Idaho. Memorials are suggested to Hospice of Hays Medical Center and may be sent to the family or to Hays Memorial Chapel Funeral Home.