CV resident recalls 1906 earthquake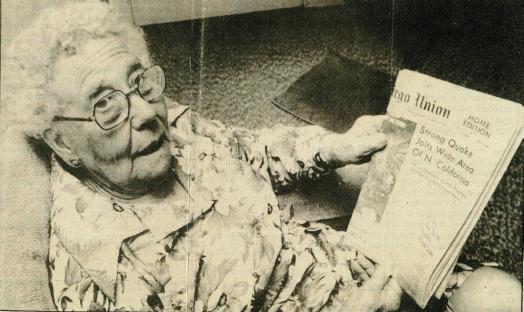 MARGARET DUGGER RECALLS TEEN YEARS IN SAN FRANCISCO
She was a child there in 1906 earthquake and remembers disaster
When Margaret Dugger of 217 F St., Chula Vista, reads about earthquake activity in Northern California, it brings back memories of long ago.
Dugger, a resident of Chula Vista since 1921, was a 13-year-old girl living in San Francisco at the time of the 1906 earthquake that devastated that city.
"MY SISTER and I were sleeping in one bed," she recalled. "The bed rolled into the window and we saw the upstairs porch fall into the yard."
A short time later, Dugger and an adventuresome friend from across the street, set out to investigate nearby smoke. They learned a neighborhood bakery was afire.
"My mother had a notions store," explained Dugger, "and she used to buy bread at that bakery to sell in her store."
As the girls went to check out a second fire, they encountered policemen who sent them home, just in time to see 11 soldiers preparing to blast a building across the street to stop the fire from progressing.
AFTER THE building was destroyed, Dugger and her family went to stay at an uncle's house. On the way they saw a woman bury her piano to keep it safe from fire. "Later she dug it up," Dugger said, "and I even played on it" while taking piano lessons from the woman. "The whole city was on fire," she recalled. "and there was no water." Every night from Wednesday to Saturday while the city burned, Dugger went with her aunt to a reservoir where they could obsreve the fire.
Dugger belongs to a San Diego 1906 organization of people who lived in San Francisco a the time of the earthquake.
WHILE THOSE memories are indelibly recorded with Dugger, she has many more memories of early Chula Vista, her home for 59 years.
"It was a pretty town," she said. She doesn't think it's pretty anymore. "It's too congested, but I wouldn't live any other place."
She said she knew the growth had to happen, but asked "where on 3rd Ave. can you go to get a spool of thread or a pack of needles?"
Dugger recalls when the trains ran up and down 3rd Ave., and the smell of the blossoms when the lemon trees -- in what was called the lemon capital of the world -- were blooming. "The Burpee Seed Co. used to plant fields with flowers for seeds." Dugger remembered, describing the colorful lot where the new Windmill Farms store is located.
DURING HER many years here, Dugger formed the American Legion Auxiliary to Post 434, and was commander of the now defunct US Army Mothers.
She is a member of the First United Mehodist Church of Chula Vista and its Women's society, the Chula Vista Chapter, Order of Eastern Star, and a charter member and the fifth president of the Norman Park Center. For 23 years she worked with the Chula Vista Welfare Council.
She stopped many of here activities when she turned 75, and now she is "not the housekeeper I used to be." she laughed. "As long as the board of health doesn't come in I guess it's all right."
WIDOWED IN 1930, Dugger raised six children by herself. She worked for a time during the war in the F Street school cafeteria, where all of her children attended elementary school. She was active in the PTA of Sweetwater High, where her children also attended.
The late Raymond Dugger brought his family to Chula Vista while he was in the Navy serving aboard the USS Wyoming. Dugger's children are Marion, who lives with his mother; Margaret Kimball of Chula Vista; Raymond of Buffalo; William and Betty Lou Williams, both of Arizona; and Felix, who lives in Casa de Oro and teaches at Southwestern College.
She has 18 granchildren and nine great grandchildren.